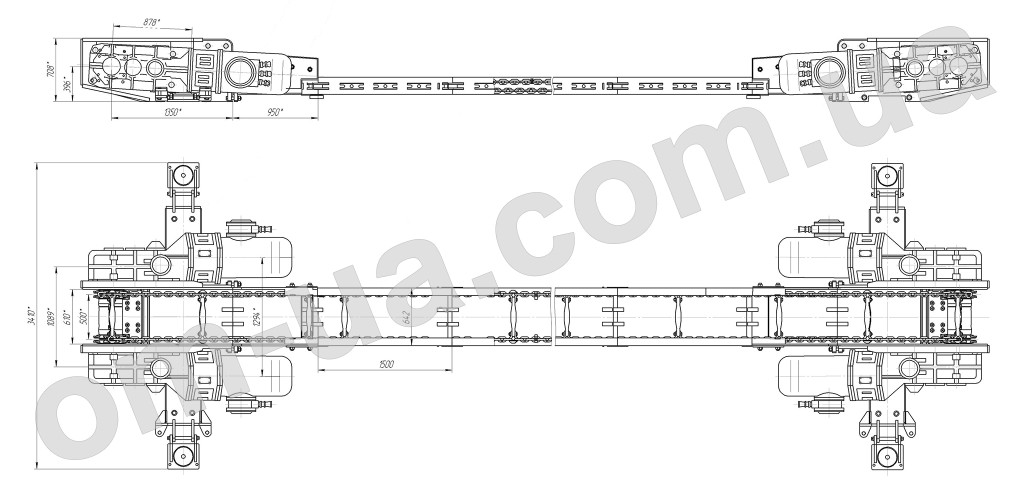 Mobile underground chain conveyor CM202 is intended for transportation of coal or oil shale from production faces which are moving ahead on extension with an incidence angle from 0 ° to 35 ° (in the absence of rolling pieces of coal) and from 0° to 10° on falling and taking up, and also on the conveyors used for transportation on entries as overloaders, when carrying out sinking operations.
Conveyors CM202 can be used during the work with the narrow combines equipped with a chain or without chain feed system as a part of the mechanized coal-mining complexes for layer power not less than 0,7 m.
The conveyor has a number of the executions differing in a design of a linear part of a flight, design of drives, power and number of engines, auxiliary equipment. Type of a climatic version of the conveyor — UKHL for category of placement 5 in accordance with GOST 15150.
The conveyor is intended for work in the mines dangerous on gas methane and coal dust at ambient temperature from minus 10 °C to +35 °C; relative air humidity to 98% at a temperature of +35 °C; dust contents to 1200mg/m3; atmospheric pressure from 0,084 MPas to 0,107mpa; to height above sea level no more than 1000m; at absence in environment of significant amount of aggressive gases and vapors in the concentration destroying metal and isolation.
Conveyor identification number at the order and in other documentation:
Mobile underground chain conveyor CM 202
CM — mobile underground chain conveyor;
CHARACTERISTICS

СПм202.38

СПм202.48

СПм202.56

СПм202.80

СПм202.87

СПм202.90

Length, m

187

150

175

207

210

207

Productivity, t/min

7,1

7,1

7,1

7,2

7,2

7,2

Pan height on sidewalls, mm

190

190

190

190

190

190

Pan width on sidewalls, mm

642

488

642

642

642

642

Pan length on sidewalls, mm

1500

1350

1500

1350

1900

1500

Thickness of a leaf of a pan, mm

20

10

14

20

14

20

Chain caliber

18-64 С-15х2

18-64 С-15х2

18-64 С-15х2

18-64 С-15х2

18-64 С-15х2

18-64 С-15х2

Chain arrangement

2 в направл.

2 в направл.

2 в направл.

2 в направл.

2 в направл.

2 в направл.

Number of sprocket teeth

9

9

9

9

9

9

Number of drive blocks, power, kW

2х110

или

4х55

3х55

2х55

или

3х55

2х55

или

4х55

4х55

2х110

или

4х55
CHARACTERISTICS

СПм202.97

СПм202.38Н

СПм202.80Н

СПм202.87Н

СПм202.90Н

Length, m

175

187

207

210

207

Productivity, t/min

7,2

7,2

7,2

7,2

7,2

Pan height on sidewalls, mm

190

190

190

190

190

Pan width on sidewalls, mm

642

642

642

642

642

Pan length on sidewalls, mm

1500

1500

1350

1900

1500

Thickness of a leaf of a pan, mm

14

20

20

20

20

Chain caliber

18х64

24х86Н

24х86Н

24х86Н

24х86Н

Chain arrangement

in 2 directions

in 2 directions

in 2 directions

in 2 directions

in 2 directions

Number of sprocket teeth

9

7

7

7

7

Number of drive blocks, power, kW

2х55

or

3х55

4х55

or

2(3)х110

4х55

or

2(3)х110

4х55

or

2(3)х110

4х55

or

2(3)х110